4 tags
7 tags
CULVER CITY MUNICIPAL PLUNGE
4175 OVERLAND AVE. (map) (JUST SOUTH OF CULVER BLVD, NEXT TO VETERANS MEMORIAL PARK) CULVER CITY, CA 90230 310.253.6680 http://www.culvercity.org/en/Government/PRCS/Recreation/Aquatics http://www.facebook.com/pages/Culver-City-Municipal-Plunge/130640060321868 http://twitter.com/CulverPool LAP SWIM HOURS AS OF SPRING 2011: MONDAY-FRIDAY:  6:00 AM - 2:00 PM (LONG COURSE) MONDAY & WEDNESDAY: ...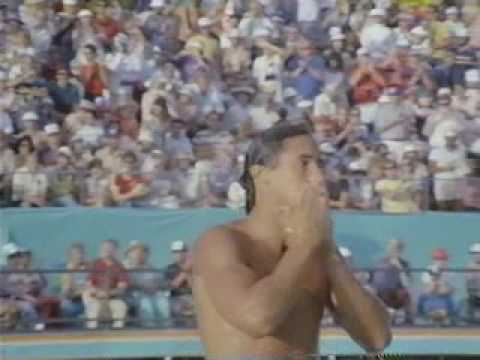 7 tags
Suprasensorial: Experiments in Light, Color, and...
   OK, so I finally made it to this installation at the MOCA Geffen Contemporary, which includes the wonderfully immersive exhibit by Brazilian multimedia artists Hélio Oiticica and Neville D'Almeida, entitled Cosmococa-Programa in Progress, CC4 Nocagions (1973). In an effort to create a socially and sensually engaged space that invites the viewers' participation, the artists...
8 tags
Watch
SWIMMING IN LA: NICARAGUAN HOLIDAY EDITION, PART 3 #3.          PLAYA CONEJO / PUNTA TEONOSTE / LAS SALINAS HOT SPRINGS The final swimming adventure of our holiday in Nicaragua centered on Punta Teonoste, the lavish resort at which we stayed for Christmas. This locale was very off the beaten path – the three hour bus ride to get there was itself an unforgettable experience, but it was so worth...
6 tags
OXYGEN IS OVERRATED: A PHOTO PROJECT →
photo by Mike Rosen I just stumbled across this swimming-pool inspired photo project, presented by the research agency ifonlyhecouldswim (IOHCS), which is devoted to "investigating the interrelationships among hydrology, spatiality, and culture." IOHCS is seeking submissions of "swimming pool culture projected by the lens" via their flickr group or via email until March...
6 tags
SWIMMING IN LA: NICARAGUAN HOLIDAY EDITION, PART...
#2. LAKE NICARAGUA I learned a good number of interesting things about this lake during my visit. It is the 19th largest lake in the world and the 2nd in Latin America. It used to - and still may - be home to bull sharks, and a number of other unsual species. And it used to be the best way of getting from the Atlantic to the Pacific before the Panama Canal existed, so it was, at various points in...
6 tags
'MASTER STROKE', DWELL MAGAZINE, FEB 2011 →
I'm sorry to be lagging on posting those Nicaragua pics, but a few unforeseen things have come up this week. So, as an alternate treat, feast your eyes on this sharp modern swimming pool in Santa Monica! It's the work of architect Padraic Cassidy and it's featured in Dwell magazine this month, but the slideshow at the link above is even better. I love the sloping, optical-illusion feel of it. And...
7 tags
SWIMMING IN LA: NICARAGUAN HOLIDAY EDITION, PART...
Happy 2011 to one and all! Although I personally missed the deluge that occurred in LA over the holidays, I take it as an auspicious sign that there are lots of water-related adventures to come in the New Year. While you all were doing your best to stay warm and dry, Ric and I were travelling through the varied landscapes of Nicaragua and trying to swim in as many wonderful places as possible....
4 tags
brianstorm asked: Hi! I just found your blog and it couldn't come at a more perfect time. I'd really like to find a few good places to swim in LA and I don't know where to go. I live in Hollywood and work in Burbank. I've thought about joining the Hollywood YMCA, but it seems like that might be too expensive for just using the pool. Do you have any suggestions?
7 tags
RICHARD ALATORRE POOL
RICHARD ALATORRE POOL 4721 E. KLAMATH ST. (map) LOS ANGELES, CA 90032 (IN THE NEIGHBORHOOD OF LINCOLN HEIGHTS / EL SERENO) PHONE: 323.276.3042 http://www.laparks.org/dos/aquatic/facility/richardAlatorrePool.htm SWIM SCHEDULE (CHANGES SEASONALLY – check above website): TUES-FRI          12.30-2.30 PM, 3-5 PM, 7-9 PM                        (TUES & THUR = ADULT NIGHT FROM 5-9...
5 tags
5 tags
BUDGET BUMMER
Sad story: This afternoon I went to Echo Deep pool for a swim and a sign was prominently posted that read "BEGINNING NOVEMBER 15, THE POOL WILL BE CLOSED ON MONDAYS". Now I don't want to start a rumor, but in the absence of any confirmation (i.e., I have been unable to find anything posted on the City's website or on any local news pages as of yet), I can only speculate that this is an ordinance...
5 tags
ACE HOTEL AND SWIM CLUB (PALM SPRINGS)
ACE HOTEL AND SWIM CLUB 701 E. PALM CANYON DR (map) PALM SPRINGS, CA 92264 760.325.9900 http://www.acehotel.com/palmsprings Check out their tumblr here: http://blog.acehotel.com/tagged/PSP  OPEN YEAR ROUND ACCESS TO POOLS INCLUDED WITH STAY COMPLIMENTARY ENTRY ON WEEKDAYS OR $12 FOR A ONE-DAY WEEKEND POOL PASS LOCALS: $50 FOR SWIM CLUB MEMBERSHIP, INCLUDES ONE GUEST PASS, 15% OFF...
6 tags
EATON CANYON NATURAL AREA (PART ONE)
EATON CANYON NATURAL AREA 1750 North Altadena Drive (map and directions) Pasadena, CA 91107 626.398.5420 http://www.ecnca.org/index.html Hours: Daily from sunrise to sunset! (The Nature Center is open from 9-5 except Mondays and major holidays) Last Friday I had a horrible day topped off by a bad commute. In my moment of exasperation I decided to get back in my car (insane, I know) and trek over...